What to Expect on Sunday Morning at CPC
Thank you for considering a visit to Central Presbyterian Church.  Following is an outline of what you can expect on a typical Sunday morning: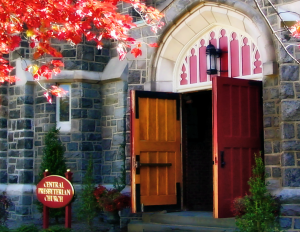 Central Presbyterian Church sits on the corner of Maple Street and Morris Avenue in Summit, NJ.  However, the entrance to parking is off Elm Street.  On Sunday morning you can check for space in the small church-owned lot, or park free-of-charge in the much larger city-owned commuter lot, whose entrance is also on Elm Street, right next to ours.
Once you have parked, you may enter through the doors in the glass-enclosed breezeway that faces the commuter lot.  If you are attending the 8:30 a.m. service,  follow signs to the Chapel.  If you are attending the 10:00 a.m. service, follow signs for the Sanctuary.  Feel free to sit in any pew!  Our non-traditional service, WAVE, begins at 5:00 p.m. in the Auditorium on first and third Sundays.  To reach the Auditorium, turn right from the glass doors, then left at the end of the hall.  The entrance will be on your right, just past the staircase.
On Sunday morning, except during summer when dress is casual, you will find many adult men in coat and tie, with women in business attire.  For children and teens, dress is "nice casual" all year.
For families with babies and toddlers, free childcare is provided each Sunday from 9:45 a.m. to 11:30 a.m. in our Nursery.
Upon entering worship you will be handed a worship bulletin (large print is available) which contains an order for the service, including directions for when to use the hymnbook and the Bible, which are provided in the pews.  Assistive listening devices are available from any usher.
As you look to the front, the sermon is preached from the left-hand side of both the Sanctuary and the Chapel.
Worship includes music – some sung by the congregation, some by choir or soloist, and some instrumental – Scripture reading, prayer, and sermon.  There will be an opportunity to make a financial offering, which is purely voluntary.  Communion is offered every week at the 8:30 a.m. service and the 5:00 p.m. WAVE, and on the first Sunday of each month at the 10:00 a.m. service.  The 8:30 a.m. service lasts 30 to 40 minutes; the 10:00 a.m., about an hour; the 5:00 p.m. WAVE, also about an hour.
Children's Sunday School begins at 10:15 a.m. during the school year.  Guests are welcome!  Parents ordinarily escort their children to the appropriate classroom, and return to retrieve them at the conclusion of worship.
Following the 10:00 a.m. service, everyone is invited to share refreshments in the Fellowship Room.